Edmonton Multicultural Coalition and Greater Edmonton Alliance – Fundraising Kickoff event          
Virtual  Kickoff  Fundraising  Event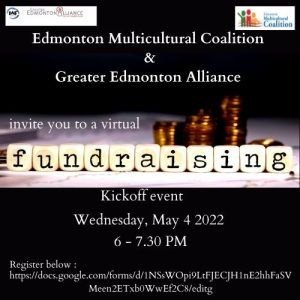 Dear friends and members of the Coalition,
On May 4th, 2022, from 6:00 PM -7:30 PM, the Edmonton Multicultural Coalition (EMC) and the Greater Edmonton Alliance (GEA) invite you to a virtual fundraising kickoff event.
The EMC and GEA share similar goals in their ongoing desire to build the capacity of everyday civic leaders to stand for the change they wish to see in their respective communities and have decided to join forces to raise funds.
Your donations are greatly appreciated in advance and will support the following initiatives:
Educational programs for community members
Leadership initiatives that train new leaders to participate in public action
Building capacities for the ethnocultural communities to make informed decisions
Action campaigns that have real impacts on members of our community.
Donation link : https://www.emcoalition.ca/donate/
We ask that you please register via the google form as below:
Google Registration Form:
https://docs.google.com/forms/d/1NSsWOpi9LtFJECJH1nE2hhFaSVMeen2ETxb0WwEf2C8/edit
All REGISTERED participants will receive the ZOOM Link.
Please feel free to contact us at tania@emcoalition.ca if you have any questions or concerns.
Thank you for your ongoing collaboration.