Board of Directors (2020-2022)
President – Dr Abu Conteh
Vice President – John Gaye
Treasurer – Emmanuel Bautista "Manny"
Secretary – Hansa Thaleshvar
Public Relations Officer – Augustine T. Marah
Directors –
Donna Kampen Entz
 Manoj Kumar Gupta
 Ahmed Ali
 Tigist Dafla
Board of Directors (2018-2020)
President – Zulfiya Mirzoeva
Vice President – Manoj Kumar Gupta
Treasurer – Ghada Daoud
Secretary – Doha Elsharief Mahmoud  Yagoub
Director – Donna Kampen Entz
Director – Telesfora Balang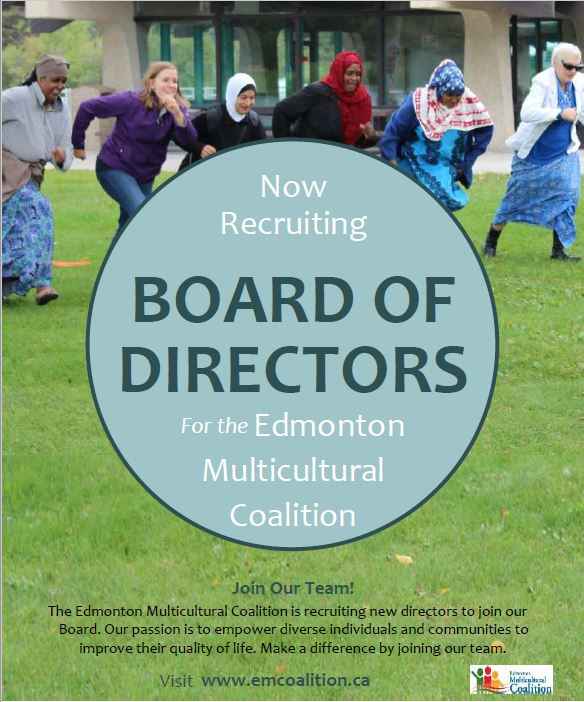 Join Our Team!
The Board of Directors of the Edmonton Multicultural Coalition is looking for new Directors.  It has established a Nominating Committee as required by section 7.2 of our Bylaws.
This year, due to COVID-19 restrictions, the AGM had to be postponed to November. The Coalition Board has now finalised the AGM to be held on 14th Nov at 11 am virtually on ZOOM.
The nominations for EMC Board are now open. So the Nominating Committee encourages you, the members to nominate other members who you think believe in the core values of the Coalition and can help the Coalition achieve its mission as a potential Board Director before our fall AGM.
We describe The Board of Directors this way.
Strengths of those board members continuing in their positions:
The President has Board experience, Facilitation skills and knows Evaluations. Continuing Secretary has Internal Communication skills.
General strengths of continuing Board members:
Intercultural knowledge, Diversity, Social media skills, Design skills and problem handling skills.
Some Gaps on the board:
External communication, Government relations, Public Relations Officer and Financial literacy
So EMC need:
a board member to take the role of Vice-President Position.
a board member with financial literacy and Business management for Treasurer position.
a board member with external communication and public relation skills for Public Relations Officer.
General skills needed in new board members:
Regular commitment, Computer literacy, Managing and mitigating risks, Grant writing, Strategic planning.
Personal Characteristics important for Board Members:
Strong in personal communication, abide by code of conduct and by-laws, team player, results-oriented, decision-maker, strategic thinker, engaging, passion for organization, maintain regular commitment, complete tasks they are responsible for.
We are looking to fill the three executive positions and up to four more members at large for a maximum of 9 board members.
Please complete the Nomination Form and email it to info@emcoalition.ca
Thanks for your consideration.
The Board of Directors of the Edmonton Multicultural Coalition