BOARD OF DIRECTORS (2021- 2022)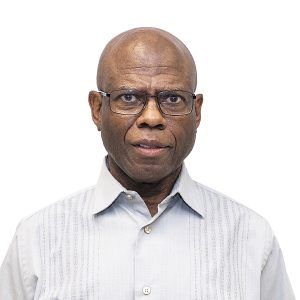 Edrick Andrews has several years of professional experience in the public and private sector, holding positions as an economist, market analyst, financial analyst, policy analyst, workforce analyst, and research officer in municipal, provincial, and federal services. His community volunteer work saw him assume roles in community capacity build, strategic planning, and Community education in board governance and youth development. Edrick has also served on several boards in the community, including Edmonton Multicultural Coalition Association, Edmonton Public Library, and a community health council. Edrick holds a BSc degree in Economics-Mathematics and a MA degree in Community Engagement.
Nigel Logan works in healthcare IT and previously worked for elected officials at the federal and provincial levels. In addition, he has served on various non-profit boards, volunteered regularly as a NAIT alumnus who gave talks to international students on networking and finding jobs in Canada, and has extensive community organizing experience.
Nigel has been a member of EMC for nearly five years and is committed to the idea of interculturalism. He was part of the EMC Community Research Advisory Council that first advanced the idea and wants to see it gain wider acceptance in the community, partly because he believes we all gain when we share ideas, but also as an important component of anti-racism.
He is a father of two, with a 15-year-old stepson and a nearly two-year-old son. He speaks English and French and understands a little bit of several languages, including Hindi/Urdu, Punjabi and German.
Nigel works as an eHealth consultant for CGI.
Over the past years, Mr. Lawrence Florkiah has been an active community member and has initiated and led family empowerment and youth development projects. He has served in board positions with the community and non-profit organizations, including the Federation of Liberian Associations in Canada (now Liberian Association of Canada), Liberian Friendship Society of Canada and Kwan Family Support Resources Council. In addition, Lawrence is a former community animator with the Edmonton Multicultural Coalition and has been a member since 2016.
Mr. Florkiah has a Bachelor of Arts Degree in Psychology, Master of Arts Degree in Organizational Leadership and is a member of Delta Epsilon Tau international honor society. He also has a diploma in Business studies.
Lawrence currently works with the Ministry of Children's Services, Government of Alberta.
Giselle General immigrated from the Philippines as a teenager and has lived in Edmonton since 2008. She
completed a Bachelor of Commerce Degree from the University of Alberta and was ran a family
business growing up. Her current career is in the non-profit sector in the legal field, helping those who cannot afford legal advice. In addition, she volunteers for numerous boards in the community, is a columnist for the Alberta Filipino Journal, and actively contributes to various artistic, environmental and medical causes.
Dr. H M Ashraf Ali has been trained in sociocultural anthropology and health promotion for public health. Dr. Ashraf has more than fifteen years of teaching and research experience in gender, economic development, food security, poverty, race and racism, and health issues. He has been teaching anthropology at MacEwan University since 2016.
Hansa Thaleshvar was a successful school trustee; she went on to become a town councillor and eventually a long-serving mayor of Cold Lake. She had many opportunities to work with the First nation in (Cold Lake) Community in social events as well as in economic development and social issues facing the region.
Currently, she is serving on the Strathcona County Diversity Committee. On 27th Aug 2020, they organised the first-ever Treaty 6 Flag Raising ceremony.
Hansa is also an active member of the Hindu Society of Alberta. She served on the Board for 5 years, two years as President and has been an active volunteer since 2006. Through many events including interfaith presentations and guests visiting from different organizations, she has enjoyed meeting people of different cultures, religions and backgrounds.
Hansa has extensive skills in strategic planning, board development, research, budgeting, organizing workshops and social events.
Tigist Dafla is a Multicultural Health Brokers Family Violence Specialist. She was also a Board member of MCHB from 2017-2019; and for Intercultural Child Care Center from 2010-2014. She represented the Canadian Council Refugees for 10yrs. She is a dedicated and passionate volunteer.
Mr. Gaye served on the Board of Africa Center for 5 years in the capacity of Board Chair, Vice Chair and Chair of Community Engagement Committee. He also served as a Board member and Vice Chair of African Canadian Professional Network. He is also a former President of Liberian Community in Edmonton.
John has extensive experience in leadership, strategic planning, budgeting, foresight and governance.
John is currently working with the Govt. Of Alberta.
BOARDS OF DIRECTORS (2020 – 2021)
President – Dr. Abu Conteh
Vice President – John Gaye
Treasurer – Edrick Andrews
Secretary – Hansa Thaleshvar
Public Relations Officer – Augustine Marah
Director – Donna Entz
Director – Manoj Kumar Gupta
Director – Tigist Dafla
Director – Ahmed Ali