Dr. Lucenia Ortiz
Dr Lucenia Ortiz arrived in Canada from the Philippines in 1994. She has worked with immigrant and refugee populations in many health initiatives at the Multicultural Health Brokers Co-op. She completed her PhD in Human Ecology at the University of Alberta in 2003 focusing on exploring multicultural health brokering as a model for improving equity of access to health of ethnic minority populations using grounded theory and participatory research method. Lucenia is also a founding member of the Edmonton Multicultural Coalition, an organization that brings together groups and organizations from immigrant and refugee communities to advocate for the health and well being of ethnocultural communities. She has initiated a community research program at the Edmonton Multicultural Coalition which has undertaken a number of participatory research studies with ethnocultural communities. She remains passionate about immigrant issues and will continue to support and advocate for their health and well being.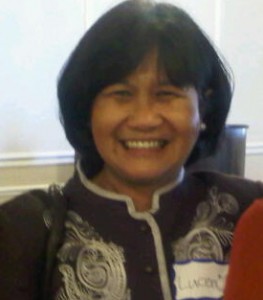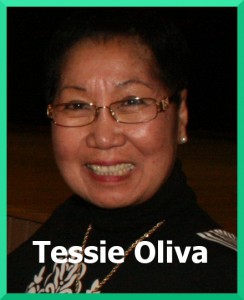 Tessie Oliva
Tessie was born in the Philippines and came to Edmonton, Alberta in 1969. She received a Bachelor of Science in Nursing from the University of Santo Tomas, Manila, Philippines  accredited by the University of Alberta in Edmonton, and a Master of Science in Administration  specializing in Health Care Services from Central Michigan University, USA.
Her career highlights are in leadership Management, Program Development and Training and Supervision. She had practice Nursing in the Philippines, USA and Canada. She worked in Alberta for 36 years in various health care organizations, in active treatment, continuing care & home care settings, & has been in different management positions for 34 years.
Tessie is a well- respected leader in the Filipino community and in the larger multicultural community in Alberta. This respect comes from her untiring work in mobilizing social support  within those communities. She founded the Filipino Nurses Association of Alberta ( FNAA) in 1976, the only organization in the country that supported immigrant International Educated Nurses ( IENs) towards their successful Nursing Licensure and Practice in Canada. She is a founding member and immediate former President of Edmonton Multicultural Coalition and served as President of the Council of Edmonton Filipino Association. Tessie is also currently a Board Member of the Edmonton Heritage Festival Association.
Abdul Daash
Abdul Daash Hussein (BA, Msc) is a community leader and mentor who has over 10 years of experience working as a community liaison.  Abdul is one of the founding members of the Coalition. He brings a wealth of experience as a volunteer, facilitator, program coordinator and program officer in the areas of multicultural initiatives and community partnerships with vast experience in the Somali community. Abdul received coalition's Solidarity Award in 2008 for his work in bringing Somali groups together to come up with solutions to issues and concerns in their community. Abdul believes and participates in community initiatives that improve the well being of his community as well as other ethnocultural communities such as crime prevention, youth involvement and leadership development.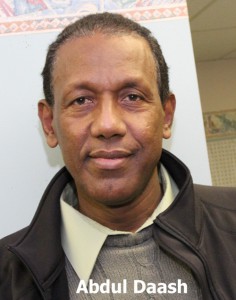 Patrick Iroegbu
Patrick Iroegbu (Ph.D) was born in Nigeria. He is a devout social and cultural medical anthropologist and lectures anthropology at Grant MacEwan University. Dr. Patrick Iroegbu was the  former Public Relations Officer of the Coalition of Immigrant Ethno-Cultural Communities in Edmonton 2003 – 2005, past President of Igbo Cultural Association of Edmonton, premier President of The Tamaraneh Society for Community Development and Support for School Children in Romano Village of Sierra Leone. Former Awards Director and Board member from Nigerian community. A recipient of the The Nile Valley Foundation Learning Centre Commission Award
He is the auhor of books and reviewed articles in journals, book chapters and websites such as Healing Insanity: A Study of Igbo Medicine in Contemporary Nigeria (2010),  Introduction to Igbo Medicine and Culture in Nigeria (2010), Marrying Wealth, Marrying Poverty: Gender and Bridewealth Power in an African Society – The Igbo of Nigeria (2007). 
Zdravka Brnada
Zdravka Brnada came to Canada from the former Yugoslavia in 1994. She was a lawyer in her home country and very passionate about issues of equity and social justice. She was one of the first community animators in the Health Canada Voluntary Sector Initiative that gave birth to the Multicultural Coalition. As a founding Board member, Zdravka was a hardworking volunteer who helped organize the Coalition from the time it was registered as a non-for-profit society and supported its organizational growth and development to this date. In 2001, Zdravka acquired a Social Work Diploma. She continues to support and advocate for the wellbeing of immigrants, refugees and temporary foreign workers to Alberta through her work in the community and immigrant serving sector.