Executive Director: Mitali Banerjee
Mitali came to Canada in October 2008 as a temporary foreign worker from Boston, USA to work for University of Alberta. She was born and raised in India where she did her Ph.D. in Zoology from Bose Institute, Calcutta, India. Mitali continued to gain two postdoctoral in transfusion medicine and cryopreservation from University of California, Davis and Harvard Medical School/ Shriners Hospital for Children/Massachusetts General Hospital, Boston respectively. After obtaining her permanent residency status in 2012 Mitali worked for Sikh Federation of Edmonton (SFE), a non-profit organization, as a Settlement counselor where she helped clients with diverse backgrounds integrate into Canadian society. Mitali's current engagement with the Edmonton Multicultural Coalition as Community Animator Coordinator aims at community development, empowerment and building the capacity of ethnocultural communities by unlocking and maximizing the potential of the community animators. Mitali enjoys meeting and interacting with people at a very personal level and tries to assist them to attain their goals.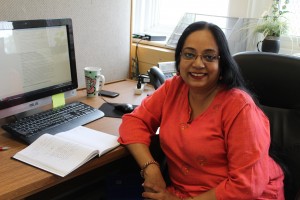 Bookkeeper: Dallas Mduduzi Gumbo
Dallas Mduduzi Gumbo has an MBA and extensive accounting and management professional experience with over 10-years experience working in government, non-profit and private sector organizations delivering everyday accounting and reporting solutions to society. His background has seen him preside over budgets ranging in scope from a few hundred thousandths to millions. Dallas has hands on experience leading teams and projects in his current and past roles. He interacts widely with community members and organizations seeking accounting and taxation expertise, helping to build accounting systems, prepare for audits and training non-profits on general reporting standards. Dallas volunteers his services as a board member for various community organizations in the city of Edmonton, helping to advance sound board governance in the area of reporting and general compliance.
Community and Neighbourhood Animator Coordinator: Suzanne Gross
Suzanne Gross joined the Coalition with over 40 years of experience working with immigrants and refugees -- in Indiana, Washington DC, Los Angeles, and in Edmonton. She was shaped by her BA in music and languages, and her PhD work that explored cultural and faith identity through music and hymns. She brings experience facilitating conversations for inter-cultural learning with the goal of growing stronger communities rooted in common values of respect, compassion, and social justice.